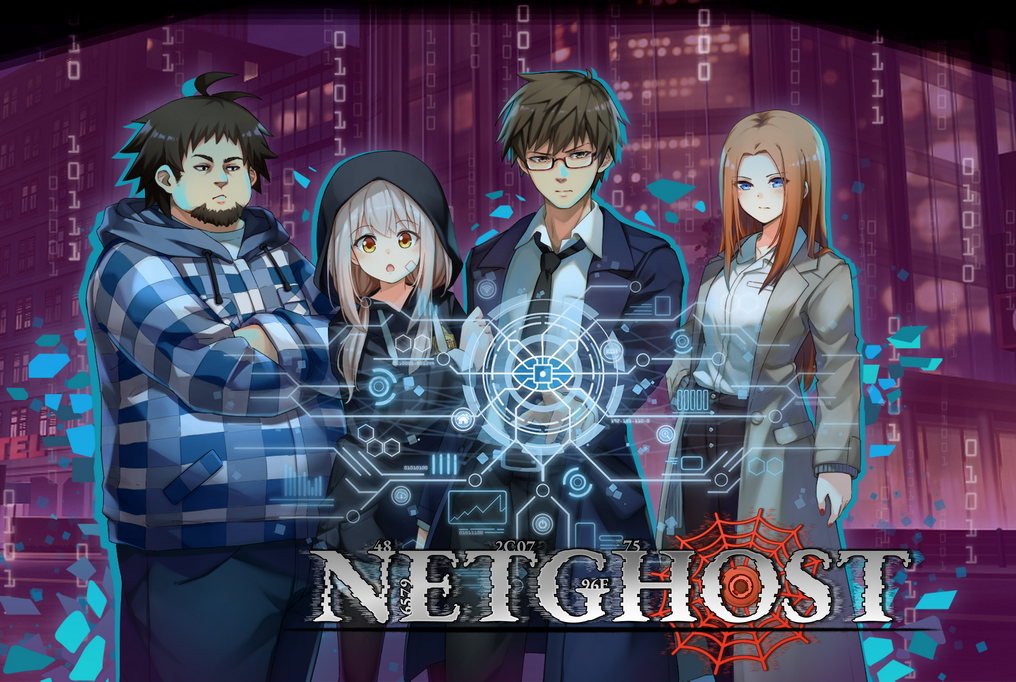 Netghost
A downloadable visual novel
Get the Demo of Netghost here!

Netghost is a Crime Drama visual novel with a mystery-driven story full of intrigue, twists and turns. The story follows Ian Newfield, a reputable cyber security engineer who transforms into a cold-blooded criminal in his struggle to protect the company he works for and provide aid to his ailing, bedridden sister.
Taking inspiration from both Japanese and Western media, we strived to combine the best of both worlds in the creation of Netghost and also lay a foundation for its own identity. It offers a branching storyline with several paths and endings and the ability for the player to change the course of the story by using the in-game email feature.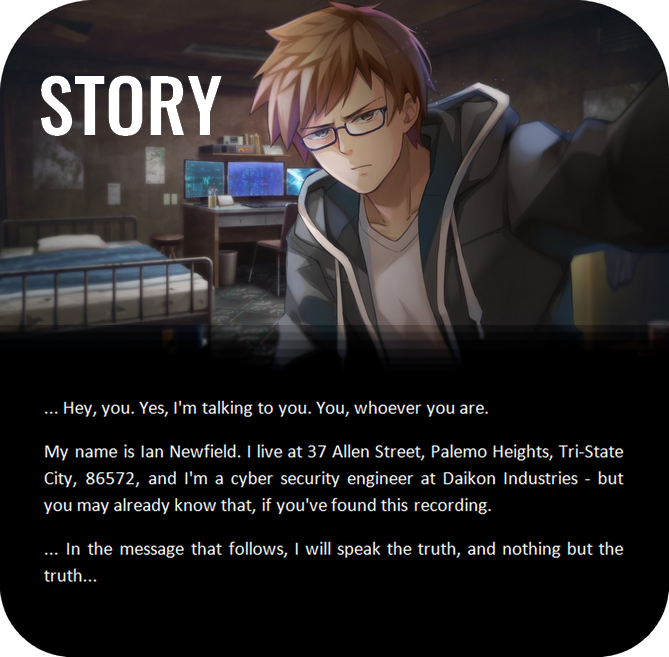 Ian Newfield is a talented grey-hat hacker who works as a high-ranking cyber security engineer at Daikon Industries, an Information Technology company that is part of a shadowy branch of a larger conglomerate of corporations. His job is to type in the letters and numbers that make up the encryption for top-secret software his company is hired to guard, details of which he knows nothing about.
Ian basks in a frail sense of financial security - that is, until he is told by his boss that their product was cracked and posted anonymously online. Now, Ian is tasked with finding the leaker among his peers by using any method at his disposal, in a workplace where anyone, from his fellow coders to the janitor of the building, could be the perpetrator...
Meanwhile, Ian's sister, Vivie, is confined to a hospital bed for years now, ill from a bone-wasting disease, and Ian works overtime to cover all her expenses and keep her happy. Despite his generous salary at Daikon, their situation has them living from paycheck to paycheck, and their objective of going for an expensive, experimental treatment for Vivie seems way out of reach.
With Ian's earnest effort to uncover the elusive Daikon leaker, his life and career begin to converge with the criminal underworld of Tri-State City. As fate would have it, opportunities rise for Ian to cut corners and make big money, money that could, perhaps, help find a cure for his sister. An age-old question is brought forth:
Does crime pay?

Game Length: Around 120.000 words

Purchase
In order to download this visual novel you must purchase it at or above the minimum price of 11.85€ EUR. You will get access to the following files:
Comments
Log in with itch.io to leave a comment.
It is interesting (゚⁠ο゚⁠人⁠)⁠)
I'm interested, will be there on Steam? And I'd like if you provided some demo, if possible
That's good to hear. I prefer it on steam
why i can't pay with credit card anyway? i have nothing on paypal rn
Hey! We have enabled credit card payments as for now. Let us know if there are any issues with your payment! Thanks
It's Ok I've downloaded and played now, but still stuck on endless loop (I don't think I've reached "true" ending yet). I feel some addition of flowchart and list of ending would be nice to keep track of the progress
Some nitpick I'd like to address:
Some of the UI is still Ren'Py standard like History and prompt screen (I feel like it doesnt reflect overall production quality, should have been made better)
There is no option to Skip unseen text. I know you might want to prevent the player for not actually reading, but it pains me I can't directly skip what I've read on demo version
There is no option to Load in the middle of the game, right click only leads to "Save" (again, it might be intentional but I find it is rather inconvenient)
Thanks for the feedback, NSAID! It's much appreciated.
For Load, try to scroll up for the History menu - a Load option is available there. Perhaps that helps!

Hope you enjoy the rest of the game!